Below is a letter I received from Seth Romans of Synery Mexico. His family is in dire need of assistance to help his young son Matthew. My hope is to spread the word to the people of love Baja and hopefully help however we can. Read on please.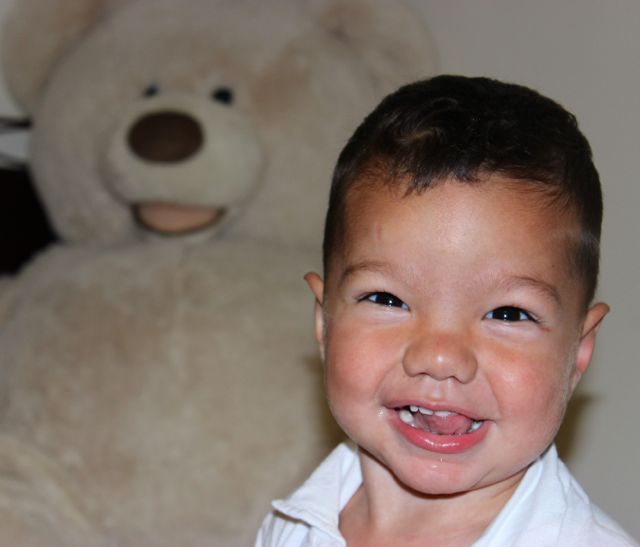 ENGLISH VERSION (ESPAÑOL ES ABAJO):
Dear Family and Friends,
Our family is at a crossroads both emotionally yet most importantly, economically yet the situation requires it and a friend who owns an important company suggested we do this now that he knows the full story. Normally, we would never do this but for our son's health and having a chance at a normal life, embarrassment and pride don't really matter at some point.
As many of you are aware and as some may not be aware, our son Matthew was born with a few defects. We have learned that when he was developing, there was a "glitch" as the skin and nervous system develop together. Some of those defects like his feet were known immediately at the time of his birth and were monitored monthly up until the time of his operation last summer, as he developed. Others, such as the challenges with his brain and ability to learn have been something we have had to constantly monitor and work with a myriad of doctors. Ultimately, in December of 2013, we had a very high-tech MRI performed on his brain. The conclusion was both a relief for us because we now know what the problems are. As of only last week, we learned what the solutions are.
During the course of the last 16 months or so, we have spent personal expenses of at least $80,000 dollars in cash, maxed out our credit cards, took loans from financial institutions, sold three cars and even borrowed small amounts of money from friends and family as the expenses grew. It has certainly been an unpredictable 2-plus years as we have flown around the country seeing the best doctors available. Although it appears that my company is extremely successful and it also may appear that I am at a very high income level, that is certainly not the case and I do not want to confuse the two. Along with having a company of course, there are basic expenses in employees, lawyers, operations, administration, investments and taxes. Therefore, I do not make large amounts of money that people tend to believe and we would like to keep this completely separate from work.
Finally, for the first time (aside from his feet which we will need to address again at age 5 or 6), we learned only last Thursday that our son Matthew has what is called "Ventricular dilatation with dilatation of occipital horns in relation to bilateral colpocefila." What this means is that his brain cells that would have normally grown at the back portion of his head did not and instead, filled with liquid. This affected area allows human beings the "ability to learn" anything and everything in life including speaking which he is not capable of right now, eating, motor skills (finite and hard like coordination) and social interaction. We also learned that we will need 4 types of therapists. The linguistic therapist needs to begin working with Matthew privately until we have the opportunity to enter Matthew into a state-of-the-art facility and expert therapists called "CRIT". Matthew is now on the waiting list to get in which is located in La Paz. Wewill be moving to La Paz in approximately one month. We will also need to begin working with 3 other therapists (all privately) until Matthew is entered into CRIT. To learn more about CRIT, please see this link: http://teleton.org/crit/ baja-california-sur
As of right now, we are in desperate need of financial support and would hope that you may be able to help us with our son Matthew. We will keep a list of anyone and everyone who helps us whether it be a small donation of $20 dollars up to whatever amount you can afford. In fact, if need be, we can submit a "factura" or invoice from my company so you can deduct it as an expense but technically, we do not have a foundation, for example. My wife, accountant and I will keep a list of all donations and reimburse everyone of them when it is possible.
Immediately, we need to raise at least $8,000 dollars and up to $12,000 dollars in order to move to La Paz and begin paying for the 4 therapists on a private basis as soon as possible. It is critically urgent that Matthew begins immediately because we've been told that he his two years behind and will need therapy for the next 3 to 4 years on a constant basis, specifically linguistic therapy and physical.
Please see all of the attachments (in Spanish and the MRIs with dark holes in elongated top part of the brain), in order to get a better understanding of the ordeal we have been through and will continue for at least the next 3 to 4 years, allowing our son to have a chance at a somewhat normal life.
PLEASE contact us or forward this email if you are willing to assist with our son Matthew. Depending on your location or payment method, we will send you the appropriate bank accounts, can accept cash, Western Union information, Money Gram, etc. Please contact us so we can respond acccordingly.
Seth & Adriana

Email Seth at seth.w.romans@gmail.com or Adriana at
adriana2681@hotmail.com
For more details about Matthew's case, please search
Seth Romans on Facebook
or
Adriana Loperena
.
------------------------------
Querida Familia y Amigos,
Nuestra familia está en una encrucijada tanto emocional como economicamente, y un amigo que es dueño de una importante empresa sugirió que hicieramos esto, el ahora sabe la historia completa. Normalmente , nunca podríamos hacer esto, pero por la salud de nuestro hijo y que el pueda tener la oportunidad de una vida normal , la vergüenza y el orgullo no importa realmente en este momento.
Como muchos de ustedes saben , y como algunos pueden no estar enterados , nuestro hijo Matthew nació con algunos defectos . Hemos aprendido que cuando se estaba desarrollando , hubo un " problema técnico ", con la piel y el sistema nervioso al momento de desarrollarse juntos. Algunos de esos defectos como sus pies eran conocidos de inmediato en el momento de su nacimiento y se llevo un control mensualmente hasta el momento de su operación el pasado verano, a medida que desarrollaba . Otros, como los retos con su cerebro y su capacidad de aprender han sido algo que hemos tenido que supervisar y trabajar con un gran número de médicos constantemente. En última instancia, en diciembre de 2013 , teníamos una resonancia magnética de muy alta tecnología realizada en su cerebro. La conclusión era a la vez un alivio para nosotros porque ahora sabemos cuáles son los problemas . A partir de la semana pasada , nos enteramos de cuáles son las soluciones .
Durante el transcurso de los últimos 16 meses más o menos , hemos tenido gastos personales de un minimo de $ 80,000 dólares en efectivo, al máximo de nuestras tarjetas de crédito , se tomó préstamos de finanacieras, vendimos tres coches e incluso hemos pedido prestado pequeñas cantidades de dinero de amigos y familiares, los gastos crecieron . Sin duda han sido 2 años impredecibles y como -plus hemos volado por todo el país de ver a los mejores médicos disponibles. Aunque parece que mi empresa es muy efectivo y también puede parecer que estoy en un nivel de ingresos muy altos, que ciertamente no es el caso y no quiero confundir los dos . Además de tener una empresa , por supuesto , hay gastos básicos de los empleados , abogados , operaciones, administración , inversiones e impuestos . Por lo tanto , yo no tengo grandes cantidades de dinero que la gente tiende a creer y nos gustaría mantener esto completamente separado del trabajo.
Por último , por primera vez (aparte de sus pies, que tendremos que operar de nuevo cuando Matthew tenga 5 ó 6 años ) , nos enteramos sólo el jueves pasado que nuestro hijo Matthew tiene lo que se llama " dilatación ventricular con una dilatación de los cuernos occipitales en relación a la cooperación de COLPOCEFALIA BILATERAL " . Lo que esto significa es que sus células cerebrales que NO han crecido normalmente en la parte posterior de su cabeza y en su lugar estan, llenas de líquido. Esta zona afectada permite en los seres humanos la " capacidad de aprender " de cualquier cosa en la vida, incluyendo hablar que él no es capaz de en este momento, de comer, habilidades motoras ( finas y gruesas como la coordinación ) y la interacción social. También aprendimos que necesitaremos 4 tipos de terapeutas . El terapeuta lingüística o de lenguaje necesita comenzar a trabajar con Matthew en privado hasta que tengamos la oportunidad de que Matthew entre en el CRIT ( fundacion de Teleton)" . Matthew se encuentra ahora en la lista de espera para conseguir entrar en el que se encuentra en La Paz. Vamos a mudarnos a La Paz en aproximadamente un mes. También tendremos que comenzar a trabajar con otros 3 terapeutas ( todo privado ) hasta que se introduzca en Matthew en el CRIT . Para aprender más sobre CRIT , consulte este enlace: http://teleton.org/crit/baja- california-sur
A partir de ahora , estamos en necesidad desesperada de apoyo financiero y nos gustaría su ayuda. Vamos a mantener una lista de todo el mundo que nos ayuda , ya sea una pequeña donación de $ 200 pesos o hasta cualquier cantidad que ustedes puedan ayudarnos. De hecho , si es necesario , se puede presentar una " factura " o la factura de mi empresa para que pueda deducir como un gasto , pero técnicamente , no tenemos una fundacion ni nada parecido , Mi esposa , mi contadora y yo vamos a mantener una lista de todas las donaciones y reembolsar todo el mundo que nos ayude, cuando nos seas posible .
Inmediatamente, necesitamos recaudar $ 8,000 - $ 12,000 dólares con el fin de trasladadarnos a La Paz y comenzar a pagar por los 4 terapeutas de forma privada. Es sumamente urgente que Matthew comienza de inmediato, ya que nos han dicho que el presenta dos años de retraso en toda su formacion (cerebral y fisica) y necesitará terapia para los próximos 3 a 4 años de manera constante , la terapia específicamente lingüística y física.
Por favor, ver todos los archivos adjuntos ( en español y en las imágenes de resonancia magnética con agujeros oscuros en la parte superior alargada del cerebro) , con el fin de obtener una mejor comprensión de la terrible experiencia que hemos vivido y que continuará por lo menos durante los próximos 3 a 4 años , permitiendo que nuestro hijo tenga la oportunidad de una vida algo normal.
Por favor contáctenos si alguien está dispuesto a ayudar a nuestra familia , pero sobre todo , nuestro hijo Matthew . Dependiendo de su ubicación o forma de pago , le enviaremos las cuentas bancarias correspondientes , información de Western Union , Money Gram, etc o efectivo. ( Si conocen a alguien que pueda ayudar por favor reenvien este correo)
Manda correos a Seth por seth.w.romans@gmail.com o Adriana por
adriana2681@hotmail.com
Para más detalles sobre el caso de Mateo, por favor busque
Seth Romans
en Facebook o
Adriana Loperena
.